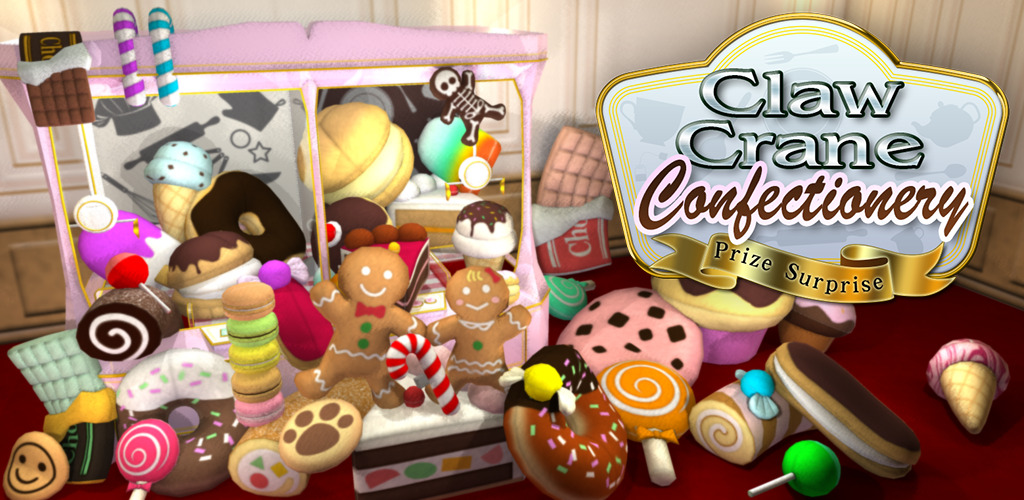 A realistic claw crane game with soft plush toys.
Collect soft plush dolls of pretty, tasty looking sweets.
Thank You 9 years anniversary!
It's virtual, so you can get them as much as you want!
Do they look yummy, or a little weird?
A real claw crane game is reproduced to your smart phone.
The 3rd of the series that everyone over 6,000,000 people are enjoying.
This time, we present you the speed-upped operability, and the maximum number of the prizes.
The prizes are various kinds of stuffed toys of confectionary that are very soft and limp. Realistic soft feel invites you into the unique sweet world.
They are 300 kinds of numbers. New tastes come up every day. Let's aim at the completion of the collection.
The operation is simple. Just keep pressing the movement buttons and release them at good timings. Swipe the screen to look at the prizes from any angle you like.
For the ones who felt mortified for having not been able to get prizes at a game arcade. Get as many prizes as you want in this game.
reviews
Won the 8th place of Amazon arcade games ranking in Japan.
Play for FREE. Download Now!
"Claw Crane Confectionery" is a Free App.
To play this game, please follow the links below.
Major Update History
Sep. 2013
1.00.000
First release.
Feb. 2016
1.02.000
Added new prizes: Baumkuchen
Mar. 2016
1.03.000
Added new prizes: Bagged Snacks
May 2016
1.04.000
Added new prizes: Jellies
Sep. 2017
2.00.000
Added new prizes: Milkshake
Made the background shiny.
Nov. 2018
2.01.000
Added new prizes: Bread Slice
Oct. 2019
2.03.000
Added new prizes: Wedding Cake
Feb. 2020
2.04.000
Added new prizes: Croissant
May 2020
2.05.000
Added new prizes: Madeleine
May 2020
2.06.000
The bending condition of the prizes are now saved.
June 2020
2.07.000
Added new prizes: Marshmallow
Oct. 2020
2.08.000
Added new prizes: Pancake
Aug. 2021
2.10.000
Added new prizes: Pie
Dec. 2021
2.11.000
Added new prizes: Gingerbread House
June 2022
2.12.000
Added new prizes: Latte
Check other "Prize Surprise" series.