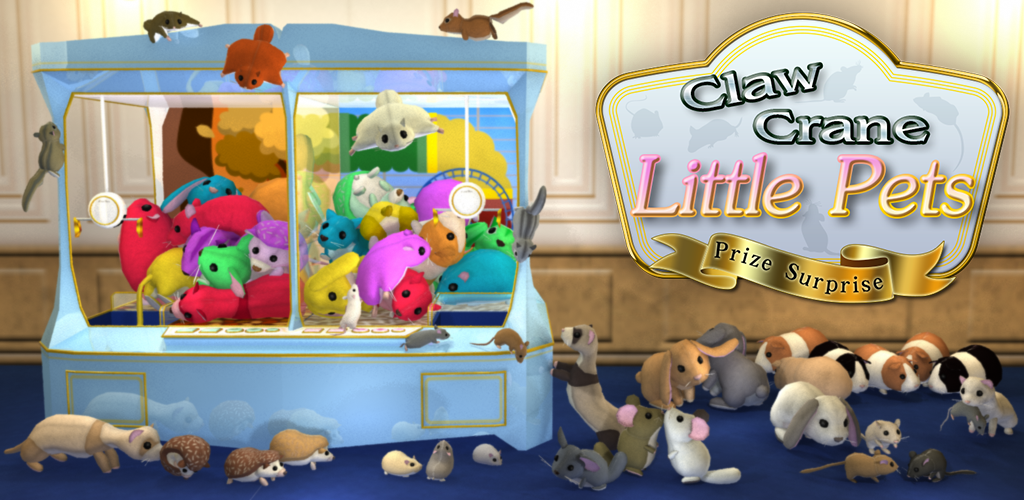 A realistic claw crane game with soft plush toys.
Get these cute stuffed pet animals.
A real claw crane game is reproduced to your smart phone.
This is the 5th of the series that everyone over 6,000,000 people are enjoying.
This time, the prizes are cute little stuffed pet animals. Hamsters, Chinchillas, Flying Squirrels, Ferrets and so on - the kinds which you are familiar with in your or your friends' house.
For simulating the soft feels of these little animals, we've made the prizes extremely limp. Play with them like as you let them play in your hand.
The operation is simple. Just keep pressing the movement buttons and release them at good timings. Swipe the screen to look at the prizes from any angle you like.
For the ones who felt mortified for having not been able to get prizes at a game arcade. Get as many prizes as you want in this game.
reviews
Won the 12nd place of Google Play casual games ranking in Japan.
Won the 100th place of Google Play all games ranking in Japan.
Play for FREE. Download Now!
"Claw Crane Little Pets" is a Free App.
To play this game, please follow the links below.
Sad News about the Android Version.
In May 2021, we received a warning from Google Play Policy Team that this game is "Repetitive".
They claimed that the content of "Claw Crane Little Pets" and our other claw crane game, "Limp Zoo", are very similar, and we were told to make one of them not open to the public.
We couldn't agree with this, but they told us that both games would be removed from Google Play if we didn't comply, so we sadly decided to make "Claw Crane Little Pets" closed to new players.
Customers who have already installed the game on their devices will not be affected. We will continue to update and support it. However, it is no longer possible to newly install it from Google Play.
As for the iOS and amazon appstore versions, you can still play the game as before. Please consider using non-Android devices!
We have continuously asked Google Play to reconsider their decision, but there is currently no prospect of resumption.
We hope that if they receive enough requests from many users, they may will be persuaded. If you'd like to play "Claw Crane Little Pets" on your Android device, please send a request to Google Play for lifting the ban on the game.
Major Update History
May 2016
1.00.001
First release.
Oct. 2017
2.00.000
Added new prizes: Skunks
Made the background shiny.
Nov. 2018
2.01.000
Added new prizes: Chicks
Adjusted to be a little easier than before.
Nov. 2019
2.03.000
Added new prizes: Goldfish
Jan. 2020
2.03.100
Gave luster to the prizes' eyes.
The textures of the prizes and background have been improved.
Feb. 2020
2.04.000
Added new prizes: Lovebird
Apr. 2020
2.05.000
Added new prizes: Squirrel
May 2020
2.06.000
The bending condition of the prizes are now saved.
July 2020
2.07.000
Added new prizes: Erect-eared Rabbit
Feb. 2022
2.09.000
Added new prizes: Leopard Gecko
Check other "Prize Surprise" series.
Play with the stuffed hamster!