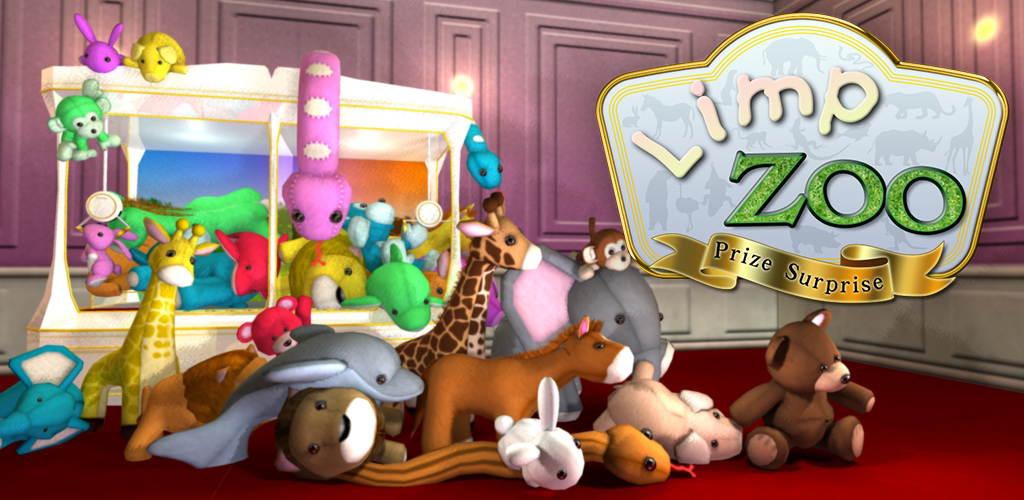 A realistic claw crane game with soft plush toys.
Get numbers of cute stuffed animals.
A real claw crane game is reproduced to your smart phone.
The 1st of the series that everyone over 5,000,000 people are enjoying.
The prizes are cute stuffed animals that are very soft and limp. Realistic soft feel make you feel being healed.
They are 388 kinds of numbers. New friends come up every day. Let's aim at the completion of the collection.
The operation is simple. Just press the movement buttons and release them with sufficient timing. Swipe the screen to look into prizes for a favorite angle.
For the ones who felt mortified for having not been able to get prizes at a game arcade. Get as many prizes as you want in this game.
Play for FREE. Download Now!
"Limp Zoo" is a Free App.
To play this game, please follow the links below.
Major Update History
May 2013
1.00.000
First release.
Sep. 2014
1.04.000
Installed prism panels to reduce unreachable prizes.
Sep. 2014
1.05.000
Added new prizes: Platypuses
Jan. 2016
1.06.000
Added new prizes: Hippos
Feb. 2016
1.07.000
Added new prizes: Alligators
Apr. 2016
1.08.000
Added new prizes: Balloon Dolls
Nov. 2017
2.00.000
Added new prizes: Kangaroos
Made the background shiny.
Dec. 2018
2.01.000
Added new prizes: Rhinos
Adjusted to be a little easier than before.
Nov. 2019
2.03.000
Added new prizes: Cows
Jan. 2020
2.03.110
Gave luster to the prizes' eyes.
The textures of the prizes and background have been improved.
Feb. 2020
2.04.000
Added new prizes: Camels
May 2020
2.05.000
Added new prizes: Seals
The bending condition of the prizes are now saved.
Aug. 2020
2.06.000
Added new prizes: Ostrich
Check other "Prize Surprise" series.